World royalty supports Japan during aftermath of earthquake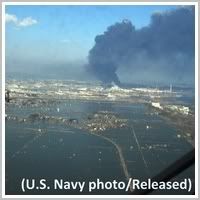 Japan was devastated by an 8.9-magnitude earthquake this past weekend, and the royal families from around the world are offering their condolences and support. The UK's Queen Elizabeth sent a message to Japan's Emperor Akihito saying: "Our prayers and thoughts are with everyone who has been affected by the dreadful disaster."
Queen Rania of Jordan reached out twice via Twitter; her first message read: "Awestruck by devastating power of nature in Japan. Thoughts & prayers are with those who lost loved ones, & those who wait in uncertainty" and about 15 minutes later she added: "A truly humbling reminder of our vulnerability, as humans in the end, we only have each other and our faith."
Queen Rania's husband, King Abdullah sent a cable to the Emperor offering Jordan's support and readiness to assist Japan in efforts to overcome this ordeal.
Thailand has sent 24 rescuers and six sniffer dogs to aid Japan in search efforts, and King Bhumibol Adulyadej sent the following message to Emperor Akihito: "The queen and I are deeply distressed and saddened by reports of the earthquake and tsunami which have left in their wake immense loss of human lives and untold devastation."
King Harald of Norway has also sent condolences to the Imperial Family, stating: "It is with deep grief that I am following the news about the terrible earthquake and tsunami which have struck your country, taking a heavy human toll and causing such widespread damage. I wish to convey to Your Majesty on behalf of myself and the Norwegian people my heartfelt condolences and my deepest sympathy with you and with the bereaved and people in Japan otherwise afflicted by this natural disaster."
In the UN's latest report, more than 380,000 have been evacuated across Japan, and emergency response teams are currently dealing with three consecutive emergencies: the earthquake, tsunami and nuclear radiation threats.